Park Department-Community Gazebo
Even in the mist of budget cuts across the state, Jackson Township has been able to secure $23,844.00 in the form of a Nature Works Grant from the Ohio Department of Natural Resources to construct a new community gazebo.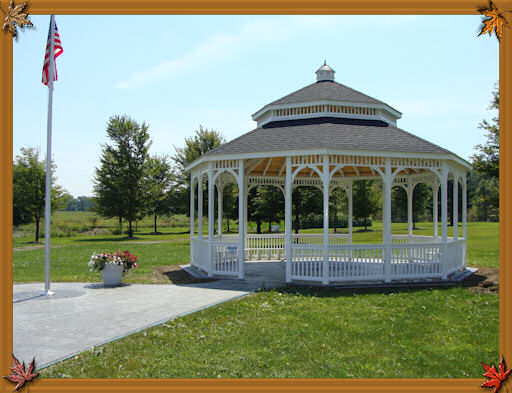 This very attractive, 26 foot octagon gazebo is built with a low maintenance vinyl finish and a stamped concrete sidewalk and pad. It is a beautiful setting for weddings, family functions, and community events located at the newly developing Jackson Park located behind the Administration Building. This new park is a 12 acre site directly off the parking lot to the Jackson Township Government Center on Mahoning Ave. Reservations to use the gazebo can be made by calling Karen Novak at 330-538-3093 #100. Residents and non-residents are welcome.

Jackson Township would like to continue to develop this park site and gazebo area with the help of our community and possibly other future grants.

Memorial Benches are available to purchase to honor loved ones. They come with one or two lines of engraving. Click here for more information.

The Township would also welcome any sponsors or donors who would like to be community partners as we work to find funding to acquire recycled benches, landscape materials and develop a walking trail within Jackson Park. Be a part of this new opportunity in our community. Help grow Jackson Park by giving a call to 330-538-3093.